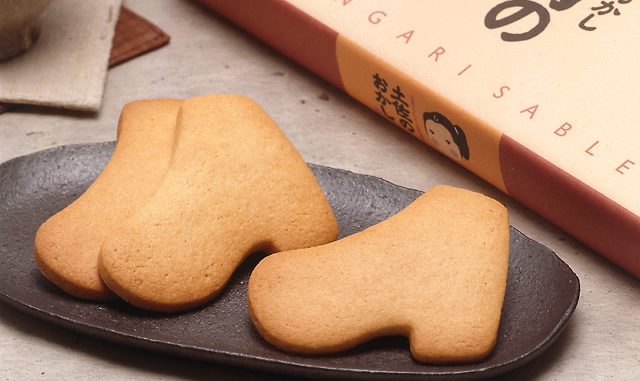 Ryoma no boots (龍馬のブーツ) is biscuits shaped like a boots.
The shape of this boots to represent the action of Ryoma Sakamoto.
It is a famous confection in Tosa city, Kochi.
Ryoma Sakamoto (quote from wikipedia)
Sakamoto Ryōma (坂本 龍馬, January 3, 1836 – December 10, 1867) was a Japanese prominent figure in the movement to overthrow the Tokugawa shogunate during the Bakumatsu period in Japan. One of his most noted accomplishments during this period was the negotiation of peace between Chōshū (present day Yamaguchi Prefecture) and Satsuma (present day Kagoshima Prefecture), two powerful provinces that had long been hostile to each other. He then united them against the Bakufu, the government that supported the Tokugawa shogun. Ryōma frequently used the alias Saitani Umetarō (才谷梅太郎) during this period, as he was often hunted by Bakufu supporters, such as members of the Shinsengumi. He was ultimately attacked and murdered, along with his companion Nakaoka Shintarō, at an inn in Kyoto. Although many suspects have been named the identities of the assassins have never been confirmed.